Apparently I can't have a week without a cranky day... Usually it's Wednesday's, but this week it's on Thursday. Whee for me!

Actually, I'm not really in that bad of a mood, just easily annoyed, and I blame my sinuses...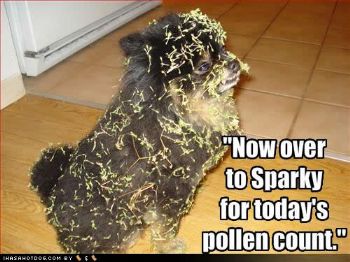 Woke up this morning all snuffy and the area around my right eye feeling like I was punched. (I'm really happy that the weather is nice and all that, but ready for the AZ winter again!) It's a special kind of fun, but I'm really grateful that for the most part I'm rather healthy. By this point I would be at the doctor begging for antibiotics for my full blown sinus infection. ::knocks on wood:: I'm not close to that yet.

Anywho, my testy moment when I realized I had to exercise a LOT of restraint and firmly clamp down the brain/mouth filter before I sounded like one of Those People. One of the departments had their monthly celebrate every March B-day meeting. The word then went out that the goodies were moved into an office and feel free to have some. I was feeling peckish and grabbed my smoothie supplies but poked my nose in the office just to see what there was...

Hokey Smokes! Cookies, cinnamon rolls, chocolate cake, donuts and bagels! My out loud voice almost chirped up to condemn the consumption of all the crap. Why on /earth/ would anyone want all that?! There's no nutritional value anywhere! Expect a blood sugar crash in 3, 2, 1. Blah, blah, blah.

Yeah, really wanted to be one of Those People. The person who used to eat like that but has seen the light and is holier than thou. The one that says that there's no place for anything other than 100% nutritious food in anyone's eating plan.

Luckily the urge passed. (Well, I'm still tempted to ridicule the store bought cinnamon rolls because, well, they're just icky. LOL!) But really, who wants to hear that? I'm more than happy to get on my high horse about eating better and all the benefits that come from eating food that has ingredients you can identify without a science degree... but to anyone that really doesn't care, or isn't in the same place as me, I sound like Charlie Brown's teacher.

About 5 minutes later I had a co-worker comment about how good I looked, how much weight had I lost, etc... she asked me honestly what I was doing and I gave her some info, we chatted, all was good. I kept my preaching to myself, tried to be as Rah-Rah-You can totally do it! encouraging as possible, and went on my merry way.

I did mention to her that I was studying to be a personal trainer and her face lit up... so that gave me even more encouragement that I was on the right path and to get my snuffy nose to the grind stone and plow through a few chapters this month.