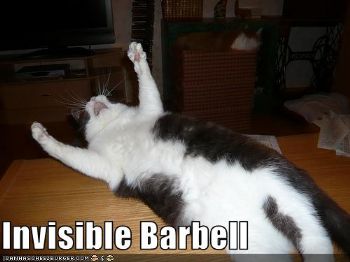 See, I was having a quandary. As I mentioned yesterday, I feel like this week has been pretty much a waste. I'm tired, I'm achy, and AF is still holding off her visit for whatever reason which is making me crampy and cranky. I've done a few workouts and decided to get myself to the gym this morning and just walk. Didn't have to do much, just something. And my legs hated me for it. Not too horribly, just again with the achy.

But on the other hand, I have a plan all mapped out - got my lifting for tonight then moderate cardio for tomorrow. No big, right?

This is one of those weird times that I can't quite read what my body is trying to tell me. But after much debate, I decided that no matter what mixed signals my body is giving me, I'm going to take the next couple of days off. Knowing I've got a Football Fondue/Hubby B-day Fest on Sunday, I'll take a walk around the neighborhood tomorrow, but it will be a nice leisurely stroll rather than a 45-minute sweat fest, and maybe throw some Pilate's/yoga in tonight for good measure, but leave it at that. Heh, doesn't sound like much down time but it is dialing stuff way back for me.

It's frustrating when your mind wants to do more than the body is willing to give (sound familiar, Ramona dear? ;) But I'd rather give myself some down time and kick it on Monday than end up totally miserable and wanting to throw my weights around. :giggle: that's kinda funny!

In other news, my awesome hubby gave me a pressie yesterday - a T-shirt that says "Trophy Wife". While it could be seen as insulting by some, I love it! It's sort of a running joke how I'm working on being a "Trophy Wife" in addition to being pretty /and/ smart. Although I teased him that now I need to work extra hard to get in shape and earn one. But yeah, not wanting to go Figure Comp route... (ok, I sorta do, but don't want to be /that/ focused on my food/exercise. I'd rather just look like I am. ;) do they give trophies for winning a 5K?