Ok fine, you all were right. I have been in a bit of a funk - tiredness will do that, and I got even less sleep last night (the cats are sleepin' on the couch tonight!)

But I was pokin' around SP a bit to just see where I was last year, etc., when I started doing HIIT workouts, when I started doing strength stuff, etc. Here's the proof that I'm on the right track: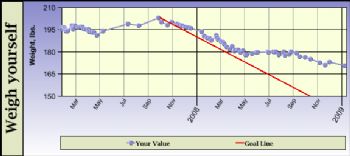 See that mostly flat line in 2007? And see that happy red line showing where I finally got of my... ahem... cut through the junk, and moved?! I stopped talking and thinking about it, and started doing.

Yeah, that's making it all worth while for me right now.