After talking with my awesome trainer last week he commented that I should do a before & after/testimonial of sorts for the gym... So Steve & Justin... this is for you, but also for me because seeing the actual changes really reinforces the amazing progress I've made.

My back story is similar to so many - I have struggled with my weight since my teenage years, and have lost and gained so many times I've lost track. My closet had sizes ranging from 12-18. I got exceptionally frustrated with myself and declared the battle cry of the weary and desperate: That Was Enough! That was about 3 years ago. In the time between 2006 & mid-2007 I grappled with my eating, depression and health issues.

Then I met the amazing man that would become my husband. He saw me for what I was, not my weight, and loved me no matter what. The only problem was that I didn't feel like the beautiful woman he saw me as. After the first few months of us living together, eating out frequently, and me trying to keep pace with his ice cream habit, my weight crept up to 203. When my engagement ring was too small fit on my finger, that's when I knew it was time to get back to work focusing on getting my weight under control.

So here we are now in April of 2009... and I happened across a photo from a year ago and was floored by the changes.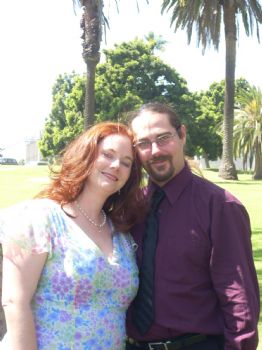 Here I am with my soon-to-be hubby at our friends wedding from last year. I was thrilled because the dress I was wearing was starting to get loose, and I was around 185. I was getting very consistent with exercising and eating better, but knew there was something I was missing...

I kept up the exercise and kept with eating well, because I had the motivation to look good in my wedding dress which kept me going as much as possible... and while I didn't quite hit my goal, I did pretty well.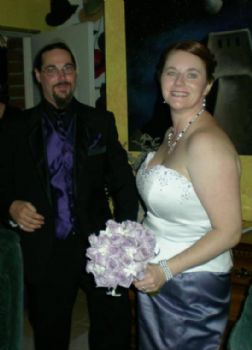 After I got back from my awesome honeymoon, I decided to take a step back and evaluate where I was in my life and where I was going. My eating was under control, I was doing cardio consistently, but there still seemed like there was something missing.

Enter Better Bodies! Whoo hoo! I knew the value of strength training but had a really bad experience with personal training and was gun shy to say the least. After doing some of my own research, and seeing/hearing other people's great experiences, I decided to give it a go again.

Here I am, 6 months later, down about 15 more pounds, and all I can say is WOW!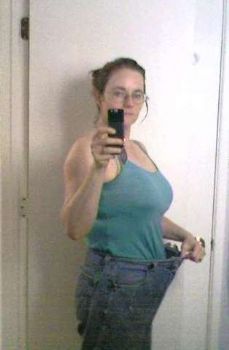 I knew the physical benefits, but seeing the changes in my body have been wonderful. Even better, working with the awesome Steve has given my confidence a boost like I never imagined.

I walked through the door for my first session having made the decision to just do the workout - no whining about it, no complaining, just doing the work I needed to. Now, this wasn't about pushing myself past pain or into an injury. This was about pushing myself past my own limiting beliefs.

There were many sessions that I went in thinking that I wouldn't be able to make it all the way through, or be able to lift anything beyond 5 pounds. Those were the sessions that I broke personal records, that I was pushed past what I ever thought I would be able to do in a year, let alone a few short months.

That is the sign of a phenomenal coach - one who has more faith in you than you have in yourself, and knows your true potential and doesn't let you get away with anything less. Just when I think I can't go any further, I hear "two more" and some how I make it happen.