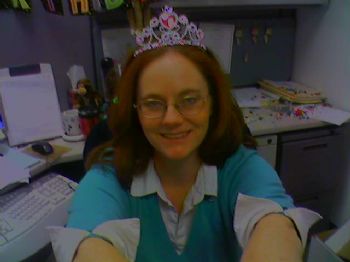 starts today.

Actually, any day can be your 'January 1st', but I figure today is an excellent day to look at where I've been and where I'm going.

See, it's my birthday today. (hence the special tiara... as opposed to the 'everyday' tiara I'd normally wear when doing things like dusting or laundry... what? doesn't every one wear a tiara doing housework? No? You should!) And today is my last birthday where I can say I'm a 30-something. In some ways it makes me sad and scared, and I look at what /most/ people think one should have accomplished by now and I see that I'm not really there. Or even close in some cases. I have quite a bit of weight to lose still, I'm still in a lot of debt, I don't come any where near maxing my 401(k) contributions, my house is messy more than it's not, I have no kids, I only recently got married (and it's my first and only marriage!)

But yet, I keep getting happier and more content with my life than I ever was. And I've considered myself a happy, content person for quite a while.

I bought a home almost 2 years ago, I have a fantastic man that I'm now married to and who understands me probably better than I understand myself (a very scary thing! lol!), I have amazing friends (some of whom I've never met but mean as much to me as those I see every day!) and an even more amazing family. And for the first time in ... well... forever, I have a goal, a greater purpose and a plan. I've had each separately, but now that the 3 things are together, I'm making progress like never before.

I've got 3 main things that I'm focusing on (health, home, finance) and similar to my whole push for getting into /that dress/ for the wedding, I've got my eye on the next 12 months and what I want to accomplish by the time the big 4-0 rolls around. What I've learned over the last several months is that, even if I don't completely hit my target, I've gotten closer to it than I ever ahve before.

So who want's to join me in making today the first day in YOUR year of success?! There's room for everone at the top, not just me!