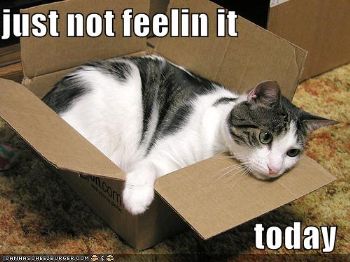 Ever have one of those weekends where you're productive, energetic and feel like everything is right and happy with the world, filled with rainbows, puppies, kittens and flowers?

Yeah, me either, but I figure it's something to strive for. :D

I spent the better part of the weekend fighting the overwhelming desire to curl up in the fetal position and hope that it all go away. (Un)fortunately neither happened.

I'm pretty sure this is just a phase and will pass, but it won't pass fast enough. It's a change of seasons, body and mind are readjusting to the shorter days, the "cooler" weather (umm...hello! I know this is Tucson, but 90 in almost November?! Seriously?!) makes one want to hibernate rather than be active (darn genetic predispositions not catching up with modern times.) There's also a lot going on globally and the energy is creating an air of uncertainty - new president on the horizon, economic upheavals, and it's all making me extra prone to wigginess.

As a bit of background - I've delt with depression/anxiety issues over the past many years, and only recently has it gotten any where near under control... until this weekend. This weekend it hit seemingly out of nowhere - I get this overwhelming feeling of impending doom and generally has no bearing on anything. It just gets in the way of my usual happy, easy going personality, and I know it drives the hubby buggy (::giggle:: that rhymed.) because I start getting over controlling and obsessive about silly things.

Oh, and it makes me want to eat and drink like mad. I had a small glass of wine on Friday and another one last night, but resisted the nummy chocolate stout that's hanging out in the fridge. The wine did help me calm down (and understand the connection with depression/anxiety and alcohol) but I figured a hot bath and quiet music can do the same, only not as quickly. I really wanted to dive into the big tub-o-ice cream in the fridge, or make a huge coffee cake or scones and eat half of it... but I didn't. I settled on a couple little snacks but nothing outrageous.

I did manage to hold it together enough to go grocery shopping, to get some food stuffs cooked in preparation for the week, do some laundry, unload and reload the dishwasher, and spend some quality time with the kittens, so the weekend wasn't a total loss.

So why am I sharing my little corner of the crazy world? Not really sure. LOL! Maybe because I realized that, even in the middle of a crisis (real or imagined), that I still have a sense of control, and moderation is still key. Sometimes you have to give in to get ahead. And when the momentary urge (strong as it was) to completely scrap everything hits, there's the underlying knowledge that hold the course is more rewarding in the long run.
Yes, I know there's lessons to learn in all things. Right now I think I'm getting a big lesson/test in faith - faith in myself, faith in others, faith that overall, things will work out the way they're supposed to. I know once I can muster the internal strength to look up from the tree I have my forehead planted on I'll see the big, beautiful forest... but right now I like having a bark print on my face. :P