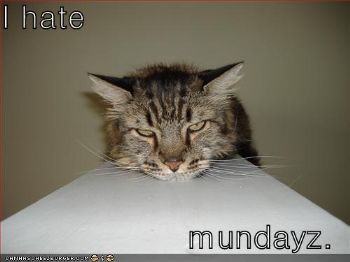 So far today is very rough going all around. After taking last week off of exercise and easing up in the nutrition end of things, I really paid the toll this weekend and then this morning. The weekend was semi-productive but for the most part I was feeling very blah and mopey. I had no get up and go - beyond a walk on Saturday morning and some strength stuff that left my legs mad at me, especially when I went up and down the stairs - but didn't sleep very well either. Think part of it is a snuffy head from allergies. ::shrug::

The really sad part was this morning's workout: sheer torture. Did my interval work out and about 1/2 way through I seriously considered stopping. It was like trudging through mud, and haven't had that difficult of a time in months. Challenging yes, miserable no. But I pushed through. I've done the workout before, I know I can do it, and I made it through. I felt like a rock star at the end...

A washed up rockstar during the first week in rehab. :P

But I know it's part of the re-building endurance process. And I did my menu planning and grocery shopping for the week, and even did all my food logging for the week, not to mention quite a bit of prep work so I have all my snackies at work. I brought in a great lunch for today and then was reminded of a birthday lunch we're having for a co-worker. Oops. I had to fight every urge to cancel, and if I could figure out how to go and not eat there, I would... and it just occurred to me - I'm just going to have soup (going to Olive Garden) and eat my lunch when I get back. I'm there for the social aspect, and I don't have to spend the money/calories if I don't want to.

Duh.

Sometimes I'm such a dork and can't see beyond my eyelids. Other times I can see way beyond the horizon. Here's to hopin that this is the first of many pushes beyond my eyelids for today. :) But first, I'm hitting the bottle of ibuprofen. Body still very sore.