I had this beautiful, thought provoking, insightful blog entry all written out.

It brought ME to tears it was so amazing...

Aaaaannd... I scrapped it.

Or at least, saved it for later.

I've been feeling way too serious of late - in my writing, my thoughts, my deeds... time to have some fun, or at least time to shake my happy tail feathers and share some YAY ME! moments...

I had a moment of "who is that and why are they wearing my clothes?!" this weekend. See, I did my most absolutely favorite-est thing - E-V-E-R! I went clothes shopping! (insert moans and booing here.)

For some reason, I have totally missed the shopping gene. Doesn't matter the size I am, I can't stand it! You'd think that I have a newer, more concentrated body, I'd be all over looking for clothes to show my hard work off.

Nope... Sign me up for a root canal, baby!

Either way, I gathered up my gumption, and my hubby (bless his shoes & socks, he put up with me, my doubts, my persnickity tastes, and went with me... even helped! More on that later) and headed to JC Penny's, since they've been good to me in the past.

The experience... I was whelmed.

The not so good - I know I'm way picky, but the fact that I could only find about 4-5 pairs of pants in my 'new' size really irked the heck out of me! And apparently the new normal/regular height woman is 5' 10" since ALL of the pants were 4" too long. Even the "short" length brushes the floor with my dress shoes (about a 1-1 1/2" heel).

I also don't like shopping when I'm extra short on cash. I'm all about shopping sales and sticking to a budget, but it just sets me in a less than deserving mindset that I don't like. Unfortunately, my criteria of when I have to go shopping was met so it was a necessity: I could take my pants off without unbuttoning/unzipping them.

The good: I'm now the proud owner of 2 pairs of pants that are a size smaller than the last 2 pairs! They're actually a little loose, to boot!

While we were shopping I kept catching a glimpse of this lady who was really pretty, and had a nice figure... like one I would like to have. She seemed nice and figured I'd say something to her if the opportunity arose. Well, you guessed it: it was me! It was weird, especially when trying on the new pants with a top that actually fit... I almost didn't recognize myself!

The way cool thing was that my hubby helped pick out some tops for me to try. I feel bad because I didn't get any, but I was excited that 1) he wanted to help, 2) I tried on things that I normally wouldn't have picked out and 3) got the opinion of someone other than myself. He picked out some nice items and I was really surprised at some of the sizes that fit really well... but the overall look of most of the things just wasn't me.

I also had the slightly defeatist but also optimistic thought that I didn't want to spend money on more clothes than I needed since I was going to be back in a few months to get an even smaller size. At least that's how I'm rationalizing it! LOL!

In other YAY me news, I did 50 full range of motion push ups this morning. Granted, they were on my knees, but I kept my feet on the ground so it was just my arms doing the work. Usually near the last few I start to lean back or not go all the way down, but not today baby!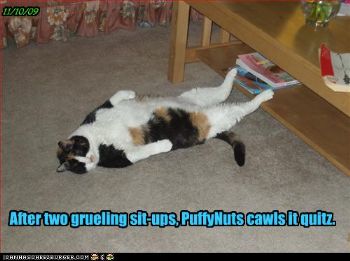 Oh yeah, that was followed by 50 situps and 50 squats, and proceeded by 50 assisted pull-ups... ;)