Keep away from people who try to belittle your ambitions. Small people always do that, but the really great ones make you feel that you, too, can become great.

- Mark Twain

"Integrity is who you are when no one is watching you." Taken from my dad's signature line

I had a fantastic birthday! It wasn't because of the huge party, because there wasn't one. It wasn't due to the hugemazing cake, though I did enjoy this little gem (Things I need to do more often: have petit fours! I always forget how fun and enjoyable they are until I have one.)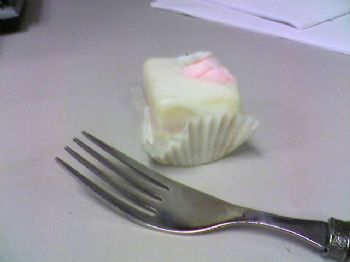 And it wasn't because the hubby and I had an awesome dinner,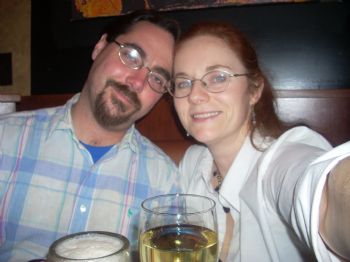 complete with flaming cheese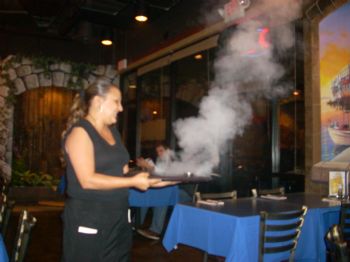 (dinner is ALWAYS better when danger is involved... and seeing the ::whoomp:: of flames always reminds me about how the restaurant caught on fire in Greek Town, in downtown Detroit... but I digress.)

It also wasn't because I got tons of expensive gifties. Because I didn't... I got less flashy, but more deeply significant pressies which I totally love!

My birthday was awesome amazing because I received gifts that can't be wrapped, or put in boxes and topped with bows. Those gifts came, in no small part, from folks who are reading this right now, and people I have never met.

You see, I learned some amazing things about myself and those around me on Wednesday. I learned that maybe, just maybe, the things folks have been saying about me are true: that I really /do/ know what I'm talking about, that I have more influence than I know, that sometimes the smallest, simplest acts can have greatest impact.

After asking a simple, albeit complex, three letter question of one of my fabu sparkbuds, Deb. I was overwhelmed by not only her response, but the response of the people who read her blog. One word made all the difference.

The word was: Why

And the response was fantastic and humbling!

If you get a chance, go swing by and read her amazing progress, especially the Week 5, Day 3 and day 4 entries.

Deb summed it up perfectly: "Do not underestimate the power of the WHY!"

Getting specific, identifying the reasons WHY you're doing something, what your end goal /really/ is, these are all keys to keeping on track, doing what you need to do to get the results you want... and it's something that at _least_ 20 people are now on the path to discovering.

So really, for my birthday, I started a WHY-volution!

And as a shameless plug for my hubby and his business coach & mentor, a free e-book and cool stuff to help you start your own personal WHY-volution: www.nowfindyourwhy.com

Be prepared to be amazed!

ps: Just so you know, here's the first draft of _my_ WHY:

My WHY is to be, and help others become the Change they wish to see in the World.
To help other people by freely sharing my Knowledge & To Open and Operate "Firecracker Fitness", the first CrossFit Affiliate/hybrid Gym that is also a full self development center! This will not just a Gym to work the body, but a gym with Mental, Emotional, and Physical training, as they all go hand in hand.